There are 4 common kitchen layouts used in today's home design. Aside from the galley-style kitchen, you are sure to the other three styles used in our stock home designs. When creating a customized plan, understanding the differences in these styles can help you to plan for the best design that fits your lifestyle.
G-Shaped Kitchen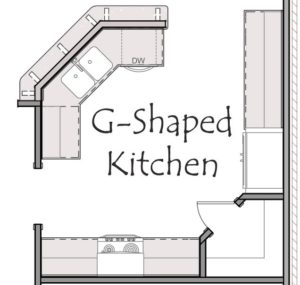 A popular style among our clients is the "G-shaped" kitchen layout. A lot of times we modify this layout with a three-sided peninsula bar. An advantage this style has, and possibly the most important reason it is a popular layout, is the amount of wall and base cabinets that it allows.
Read More About G-Shaped Kitchens
Typically, each component in the layout will occupy its own wall. This can work great for households that have more than one cook at a time preparing meals. If the space allows, a center island can allow for counterspace increasing the functionality of the design. A drawback to this layout can sometimes occur when the space is too large and the kitchen components are too far apart. This can slow workflow where there is only one chef by increasing the amount of steps that must be taken to get from one point of the triangle to the next.
L-Shaped Kitchen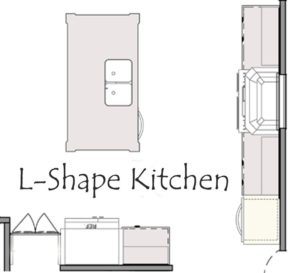 The next style of kitchen os the "L-Shaped" layout. This style has become popular in open floor plans that place the kitchen adjacent to the great room or possibly a keeping room. In the L-shaped layout to the left, we designed a large kitchen island that houses the sink and dishwasher.
Read More About L-Shaped Kitchens
The island serves as a large table that can comfortably seat 5 people. Due to the 36″ height, taller chairs are used situating the persons seated closer to the eye level of the host creating a more inclusive environment.
U-Shaped Kitchen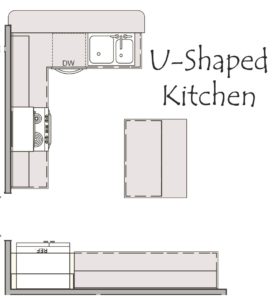 The next layout we'll discuss is the "U-Layout". Often times considered the design that provides the most well-rounded mix of efficiency and size. 
Read More About U-Shaped Kitchens
Often times this layout makes it easy for the cook utilize each zone by pivoting on one foot. Like the L-shape design, the U-shaped kitchen is popular in more open home plans.